THE TORONTO STATIONERY SHOW IS ON NOW!
20% OFF Everyhing with code holidaytss until december 9th
SPREAD MORE GRATITUDE
THIS HOLIDAY SEASON!
If you are having trouble choosing Gratitude Cards, our Mystery Grab Bags are the perfect solution! You will receive 3 Gratitude Cards bundled at random so you can spread more love and gratitude. This offer is on for a limited time so act fast.
(Excluded from promotions)
$16.00
Original Price $25.50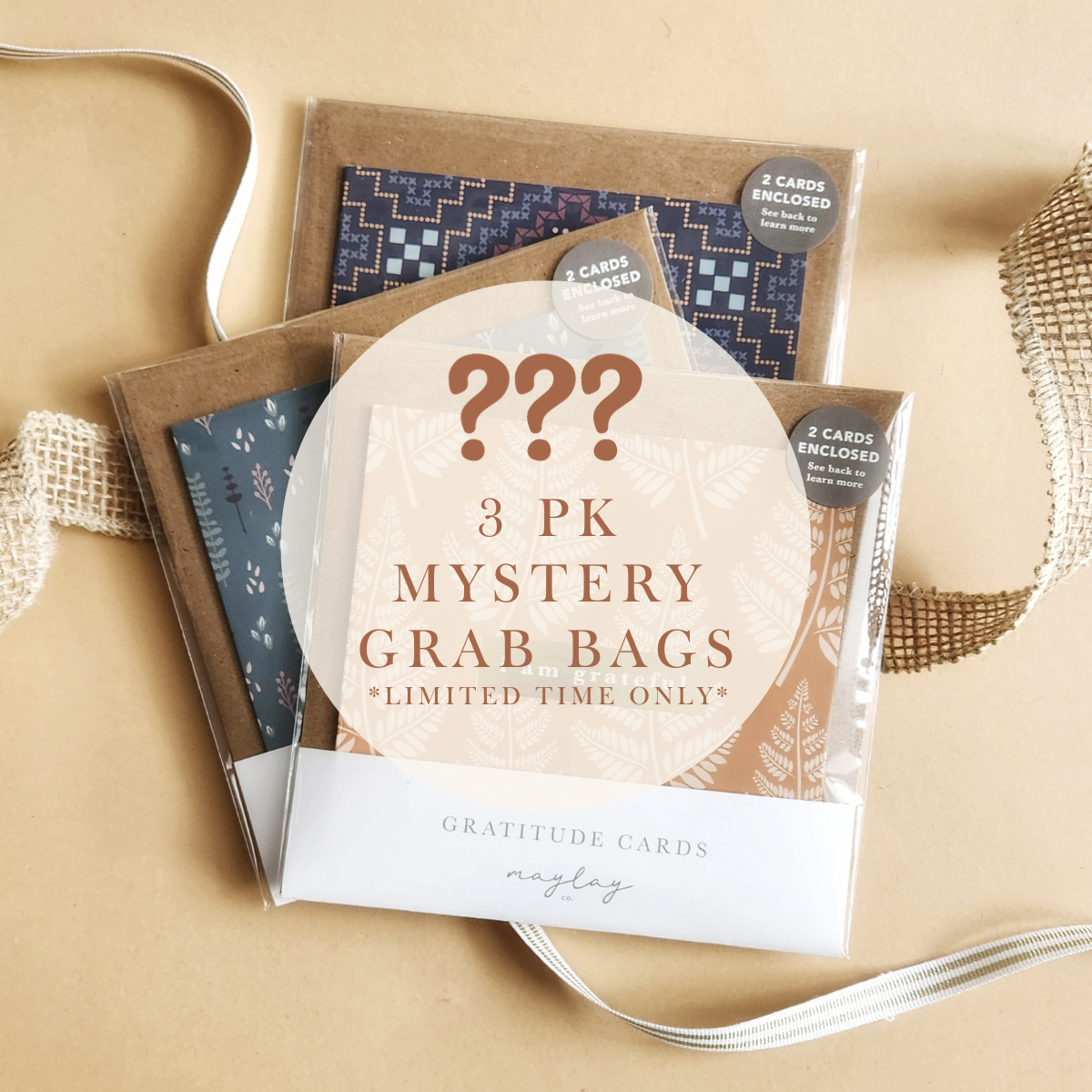 Enchanted Garden Collection
Enchanted Garden Collection
Introducing a creative collaboration with Do Good Paper Co.
A little bit about Do Good Paper Co. Do Good Paper Co. is a Canadian small business that designs and sells beautiful journals, notebooks and planners, and offers an award-winning subscription box service. Leslie, owner and co-founder, loves working with local artists to design products, and for the newest collection, she collaborated with Tiffany Wong of Maylay Co.
Together, we created the Enchanted Garden Book of Sticky Notes. Do Good Paper Co. then released their 2024 Planner and Maylay Co. released their signature Gratitude Card and washi tapes.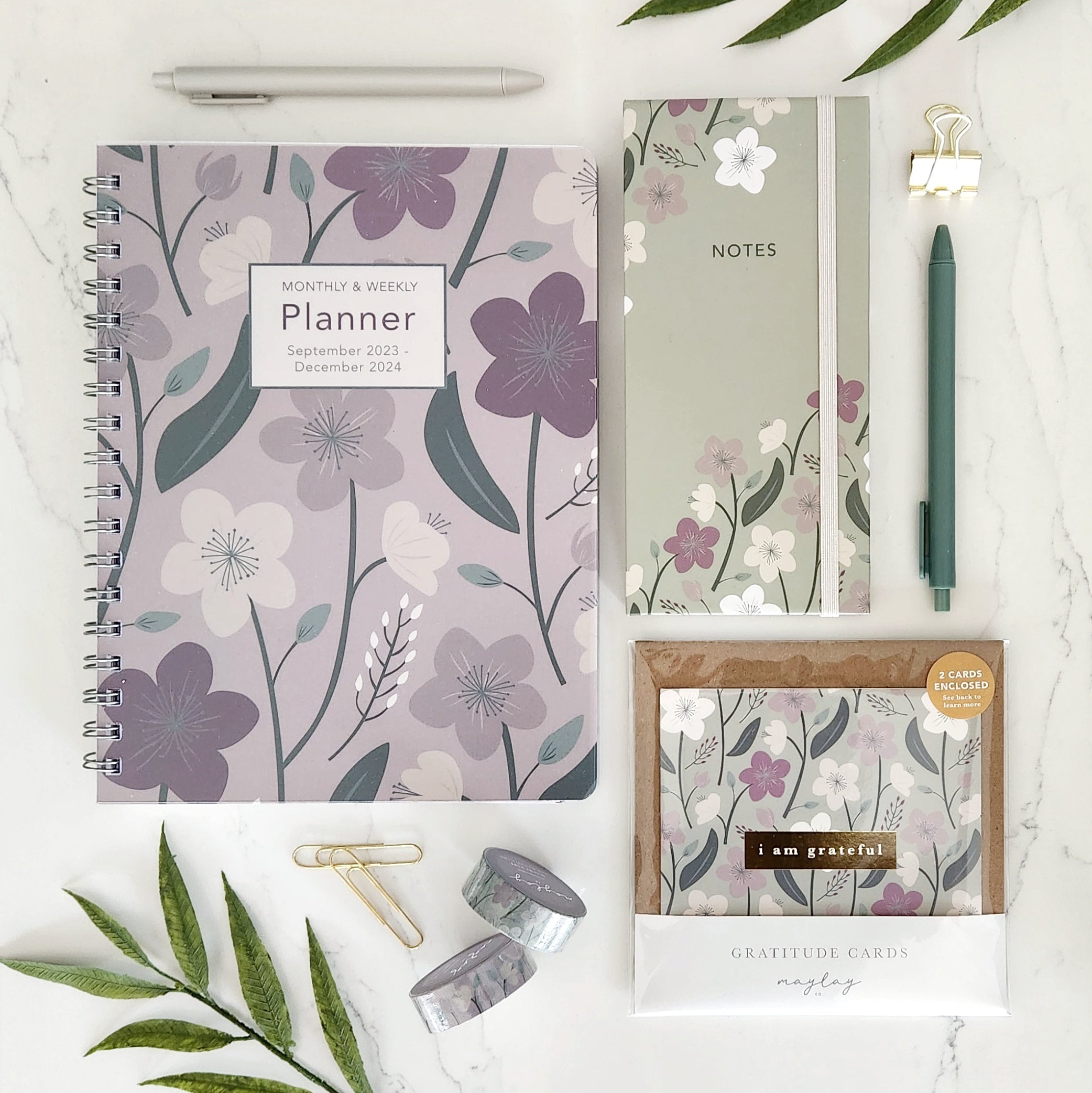 WHAT IS A GRATITUDE CARD?
THREE LITTLE WORDS CAN GO A LONG WAY...

WHY IS IT UNIQUE?
Each package of Gratitude Cards includes two beautifully crafted and designed blank greeting cards, each with a specific purpose in mind. The first card is for you to give to someone you're grateful for, and the second card is for your recipient to pass on to someone they're grateful for.

WHAT IS THE PURPOSE?
They are designed to spread joy, love and positivity to those closest to you and beyond. It is a meaningful way to reconnect with friends, family, and loved ones, while also reminding each other to practice gratitude every day.

WHAT IS THE HOPE?
By giving a Gratitude Card, you are strengthening relationships, promoting positivity, motivation, and joy in others. And by encouraging your recipient to pass on their gratitude, you're creating a ripple effect of kindness that can positively impact many people.The hope is to touch as many people as possible.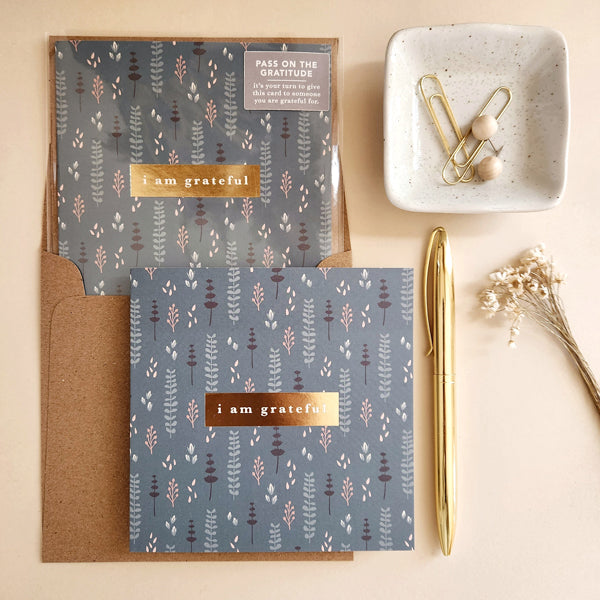 Shop The Entire Gratitude Collection
Such beautiful cards! And such a great idea! Love them!
Ashton W
Beautiful. Love this washi tape! Very beautifully printed and so super cute!
Caily Collins
LOVE!! Simple and beautiful design and the perfect way to show some of our volunteers how grateful we are for them! We will defiantly be ordering them again : )
Mihret H
Lovely product, great customer service! I love this card and gifted it to a stationery loving friend! The customer service was awesome and I will definitely be purchasing more cards from Maylay Co!
Olivia L
Outstanding The grateful cards are soo amazing. When I received my card I was truly touched and it brightened my day. The past 10 months have not been easy for friends, family and colleagues -- sending them a gratitude card will bring sunshine into their day when darkness has been prevailing!
Anna I
This is one of my favourite cards that I've come across in a while! I think it is such a great idea to express and pass along gratitude. Not to mention the paper quality, envelope quality, graphics and print quality are all excellent.
Lia F